Together with Beauty and Nature at Asilo Tagaytay
My first visit to Tagaytay in 2002 was by mere accident. It was my first time to be in Manila when I got my first job assignment in Cavite. I rode a jeepney to look for a church. What I did not realized was I was already way past the Cavite area. I probably missed it because the view gets better and better and the weather gets cooler and cooler. I just knew I was no longer in Cavite when for the very first time, I saw the iconic lake and the volcano that I only used to see in postcards.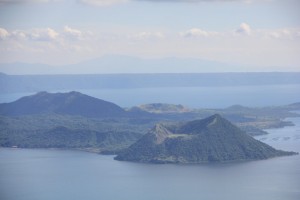 The famous Taal Lake and Taal Volcano
Since then, Tagaytay has been my favorite getaway place. I can remember the several weekend dates with my wife, lunch outs with officemates, day trips with friends and overnight retreats with the church. There are just a lot of activities you can do.
Tagaytay – A Family Destination
A recent day trip to Tagaytay last December with my family, showed how Tagaytay has almost everything.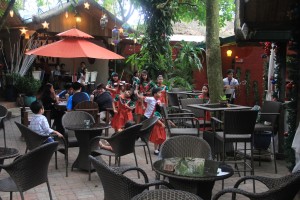 Kids having a presentation at Bag of Beans
There was great food in Tagaytay that you'll run out of time and space in your stomach to visit all of them in one day. We had lunch at Taalena and afternoon snacks at Bag of Beans.
There were great views in Tagaytay. We visited the Palace in the Sky, People's Park, and several viewing decks of the Taal Volcano.
There were great activities in Tagaytay. Families can simply have a picnic or have a trilling ride at a zipline.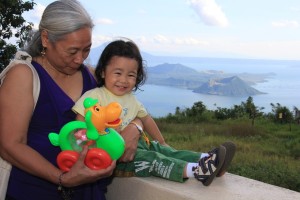 Gab and Nanay having quality bonding time
One day is not enough in Tagaytay. Just look how happy our son whenever he is outdoor. I wish we can stay longer. Or hopefully own a home and live in Tagaytay.
Asilo Tagaytay – A Dream Home
Who woundn't want to live in Tagaytay and escape the busy and stressful metro life? Well, here's great news for nature lovers and families out there, living in Tagaytay is now possible with Avida's Asilo Tagaytay.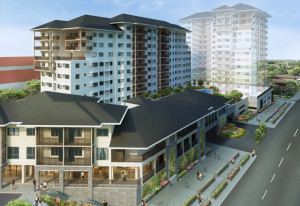 Asilo Tagaytay by Avida Land
Asilo Tagaytay is the first vacation home development by Avida Land. Asilo is derived from the Tagalog word "silong" which means to take shelter. It is composed of two mid-rise residential towers and a low-rise building that offers a retail area. Unlike other high-rise buildings being developed, Asilo is designed to blend in with the natural beauty of Tagaytay.
The retail area will be very different from the usual mall. It will have courtyards and will showcase Tagaytay products. What makes it more exciting is how the Asilo Tagaytay will become the newest hub for weekend lunches and for shopping. Remember how a visit in Tagaytay is not complete without buying the local delicacies, fresh fruits, flowers, and other products? At Asilo, all these will just be a doorstep away!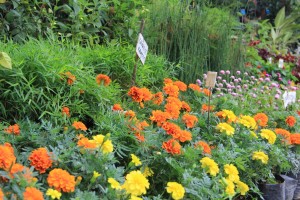 Colorful flowers, fresh fruits and vegetables are among the best buys in Tagaytay
Asilo Tagaytay can your second home or a vacation home so you can be closer to the majestic Taal Lake and Volcano and the cool, refreshing climate that Tagaytay is famous for. It's the perfect place to spend spend a holiday, a weekend, or take a vacation with the whole family.
Location, Location, Location
Asilo Tagaytay is easily accessible from Metro Manila and Greater Metro Manila. The location of Asilo Tagaytay is very strategic: it's close to the crossroads of the Tagaytay National Highway and the Aguinaldo Highway. Aside from being very close to two major national highways, the property is also conveniently near the Rotonda and beside the Our Lady of Lourdes Parish Church, as well as schools, hospitals, and places of leisure.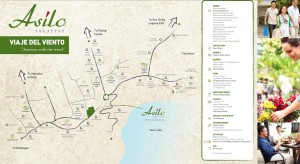 Avida Tagaytay is conviently located in key places in Tagaytay
One with Nature
Avida Tagaytay is designed to allow residents enjoy the natural beauty of its surroundings. Once complete, it will blend rather than obstruct.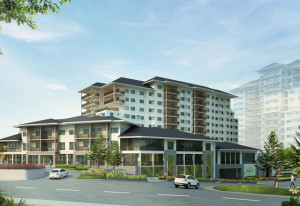 The architectural design, materials, finishing, and the landscaping are designed to be more reflective and reminiscent of the old Tagaytay—rustic and yet contemporary. The roof is pitched so there is a particular character that is appropriate to Tagaytay. Corridors are designed to have breezeways and there's ample space between buildings to allow better cross-ventilation.
Rooms with a View
The units will be more spacious and bigger than those offered in urban areas. There are more balconies in the upper floors so that residents can fully enjoy the view of Taal and the Batangas mountain range in the horizon. It won't be crowded and small so you can move freely inside you unit.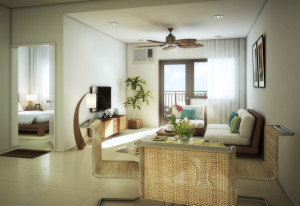 A perspective of a 1 Bedroom Unit in Asilo Tagaytay
You can choose from studio units, 1BR and 2BR rooms. Price range at Asilo Tagaytay is between 2M-7.5M depending on the floor space. Below is a more detailed price list for the units.
Studio (22-30 sq.m.) – Php2.0M – Php2.5M
1 Bedroom (40 sq.m.) – Php4.2M – Php4.6M
2 Bedroom (60 sq.m.) – Php6.4M – Php7.5M
Great Investment with Avida Land
Avida Land was borne out of Ayala Land's desire to bring affordable living at its best to the greatest number of Filipinos. In a span of two decade, Avida has already delivered 60 projects in 28 locations. This year, Avida is giving Filipinos a chance to fulfil their dreams of affordable living in Tagaytay with Asilo.
Like all Avida condominiums, Asilo Tagaytay fulfills the 5 condo must-haves:
Free-flowing air and sunlight
Fewer units per floor
Sensible amenities
Emergency power
Easy payment term
The easy payment terms of their property in Negros made me an Ayala land owner myself. Oh… how I wish to have Asilo Tagaytay as our second home.
Know more on how you and your family can have your very own vacation home in Tagaytay. Visit their website at http://bit.ly/AsiloTagaytay. You may also contact Avida thru (+632) 848-5200.
Comments
comments