Books to Read – March 2013
I am reading a lot of books again.  This is to set an example for Gab that reading books is a good habit.  Since January, I finished reading about 4 books already.  For March, I'm reading three more.
Early this year, I have been reading books on how to teach Gab to read.  One of the advice is for parents to read real books and not just through e-book readers.  If I read using an iPad, Gab will not associate it with reading right away.  He might think I am just playing games or surfing the internet or watch videos.  Not a good example, right.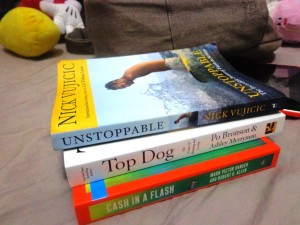 So I am buying books again to fill up my library and to show Gab how I enjoy reading books.  Here's what I am reading.  I would probably finish reading them by March or April.
Unstoppable: The Incredible Power of Faith in Action
by Nick Vujicic
I knew Nick from his YouTube Video.  It's only a few minutes long but it strikes a very inspiring message. I bought his second book, Unstoppable
, just before his Manila Tour on May 2013. In this book, Nick shares his own experience in overcoming personal crisis, issues and challenges.  Faith in action is a recurring theme in the book.  He has accomplished so much despite having no limbs.  That alone inspires me that I can rise above any challenges as well.
Cash in a Flash: Real Money in Slow Times
by Mark Victor Hansen and Robert G. Allen 
This book is a follow up to their bestselling book, The One Minute Millionaire: The Enlightened Way to Wealth
.  This time Hansen and Allen gives you strategies to make money fast.  Their first book was inspiring although it lacks concrete examples.  So I thought a follow up is a good idea to help me generate multiple streams of income which the authors advocate.
Top Dog: The Science of Winning and Losing
by Po Bronson and Ashley Merryman
I enjoyed reading their first book, NurtureShock
, and I learned a lot from it.  I even applied a lot of the studies mentioned in NurtureShock
as I raise my son, Gab. That is why I decided to buy their next book, Top Dog
.  In this book, the authors talk about the science behind winning and losing.  I love science and breakthroughs in modern research and I think this book will just be as eye-opening as NurtureShock.
That's three books in a month.  Plus a few short books in between and I will share my review of some of the book I have read already.  So far, I have started reading Unstoppable.  I'd probably read Top Dog next then Cash in Flash, the last.
How about you? What book are your reading now?
Check out these books at Amazon.com
Comments
comments