Omron Ear Thermometer Review – Gentle Temp MC-150
A thermometer is a requirement once you have kids at home.  You'll never know when they get sick but home that it's one thing you hope you never get to use. My sister gave me a Gentle Temp Omron Ear Thermometer. It's compact, fast and easy to use. It doesn't scare Gab when we use it.  Our toddler even likes to play with it.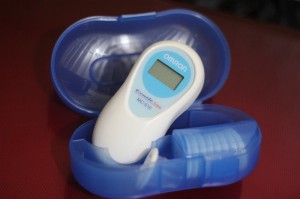 Product Description
Compact, elegant and versatile. This thermometer represents highest proven accuracy for in-ear temperature measurement. The unique positioning mode makes sure that improper positioning in the ear is not affecting the accuracy. Suitable and recommended for use with young children, adolescents and adults. Omron's unique GentleTemp 510 features the latest technology to provide fast and precise results. With 250 scans taken per second, patients can be sure the instant reading is accurate. The Dual-Mode feature ensures highest reliability in temperature reading. Supplied with hard storage case and a set of probe covers.  — from www.omron-healthcare.com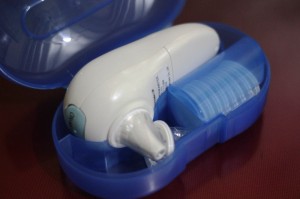 PROs
Super easy to use. Just one button to touch and it does the measurement for you.  We do get confused sometimes on which beep will tell what, so we keep an Omron MC-510 User Manual at hand for quick reference.
Fast results. After the first beep, the measurement will be done in a second. It's that fast. It's finished before you know it.
Small and compact.  The Omron MC-510 Digital Ear Thermometer fits well on the hand.  It's not bulky and doesn't look intimidating to children.
DADDY TIP: Introduce the thermometer as a toy before using. Or play doctor-patient with the child using the thermometer to make the child comfortable with it.
CONs
 Lower readings. Since temperature is being taken in the ear, the readings are not the same as using the common mercury-type thermometers. Thus, a 37-deg C body temperature will just show as 36.4 or lower.
DADDY TIP: Have a baseline of your temperature when you are not sick.  This could be around 36-37 deg Celsius with the Omron Ear Thermometer.
Summary
Gab has been sick for two days already and the Omron Ear Thermometer has been a handy tool. We love the easy to use interface and the fast reading.  It only takes 1 second to get the temparature. That gives us more time to cuddle Gab more when he's not feeling well.
We had to get used to the lower readings.  Gab's normal temperature was measured before at 36.2.  Thus, a 36.5 means that he have a slight fever already.  While, the Omron Ear Thermometer can be used for infants, we were not able to use it properly with Gab when he was still small.  He moves a lot thus the temperature reading we were getting was not reliable.  I suggest using the Omron MC-150 for toddlers.
Daddy Rating: 5 of 5

Comments
comments