Healthy Breakfast Cereals with Fruits, Nuts and Yogurt
Here's a healthy breakfast cereal recipe I'd prepare once in a while.  It's simple and easy to prepare.  Best when you are in a hurry in the morning.  The more stuff you add, the more delicious it gets.
For a daily dose of fruits, this healthy breakfast recipe will do the trick.  You can prepare this in less than 5 minutes.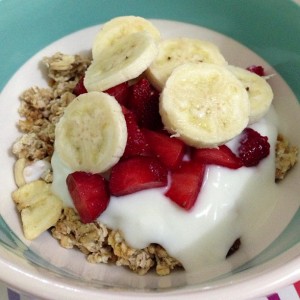 Breakfast Cereals with Fruits, Nuts and Yogurt
Ingredients
cereals (granola or muesli may also be used)
Yogurt (plain or flavored)
Fresh Fruits (banana, papaya, strawberry, apple, peach)
Dried Fruits (optional)
Nuts (almonds, cashew, peanuts)
Procedure
Pour cereals over the bowl.
Add the yogurt over the cereals.
Top with fresh fruits and nuts.
Mix together
Enjoy this healthy breakfast and have a great day!
DADDY TIPS
1. If using cereals with dried fruit and nuts on it already, you can omit the fresh fruits and nuts from the recipe.  Just add the yogurt.
2. Plain yogurt goes best with this recipe.  The fresh fruits will make it sweet.
Comments
comments