Mother's Day Staycation at Suite 23K
For Mother's Day, we had a simple treat for Mom. Although it was more of a treat for Gab than for Mom.  We had an overnight stay at Suite 23K in Makati.
I was a simple and relaxing overnight stay in Makati.  The room can be rented short term or long term.  When I spotted the deal in an group buying site, I immediately booked a night.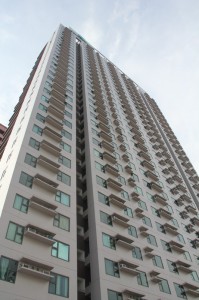 Suite 23K is located in Belton Place, Yakal St, Makati City.  If you a looking for a room or a place to stay near the Makati Business District, Suite 23K provides a good location.  It is also near several fast food chains.  It is accessible through jeepneys and taxis.  Plenty of options for food and transportation.
What we love about staying at Suite 23K is the amenities for kids.  There is a playground and a pool that Gab really loves to hang around.  He made the most of his stay by swimming at the pool and climbing at the playground.  It was not crowded even on weekend so Gab spent a lot of time as if he owns the place.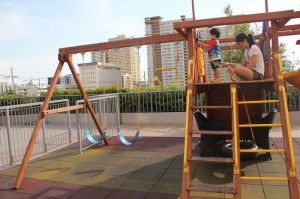 Playground Area at Suite 23K, Makati
Suite 23K is not really a hotel but the room is clean and cozy and the service is at par with hotels.  The room is fully furnished with a big refrigerator, microwave, induction cooker, cable TV, electric kettle and bread toaster.  We can bring our own food or cook your our meals.  But we decided to just buy food at Jollibee and KFC which is just around the corner.  We also had dinner at a pizza parlor at The Collective which is a few blocks away.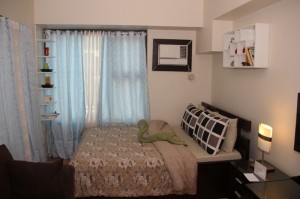 Our room at Suite 23K, Makati
The one handles the reservation was very polite and she was very accommodating during our stay.  They even gave us 2 discount coupons which we can use for our next stay at Suite 23K.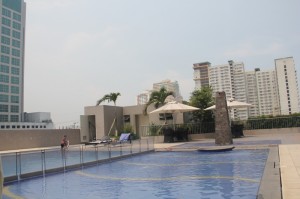 Pool Area at Suite 23K. The playground is on the right.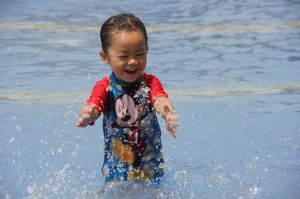 Gab enjoys playing on the kiddie pool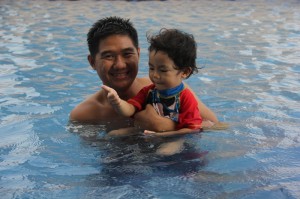 Dad and Gab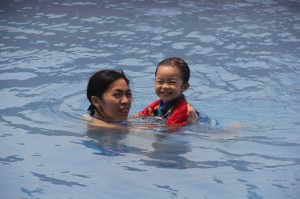 Mom and Gab
For short term stay, I would recommend the place.  The room rate is at 3,800.  They even have a Romance Package and a Honeymoon Package at 4,990 Php. But we got the room at a discount 50% discount at a group buying site.
If Gab want to have  dip at the water again, then we might be back for another night.
Know more about the Suite 32K at their website.
Comments
comments