How to Donate to Typhoon Pablo Victims
The Typhoon Pablo (Bopha) is the strongest cyclone to hit the country this year and has unleashed destruction to hundreds of lives and properties from Mindanao to the Visayas and Palawan.
The death toll went up to 238 as of Wednesday afternoon. The National Disaster Risk Reduction and Management Council (NDRRMC) reported that 44,954 families or 213,502 people have been affected by the typhoon.
Please BEWARE OF SCAMS. Be careful of making online donations to Typhoon Pablo victims. As much as possible, send your donations only through establish agencies and organizations.
Here's a list of how you can donate for the victims of Typhoon Pablo.
Click on the image for a larger view of the map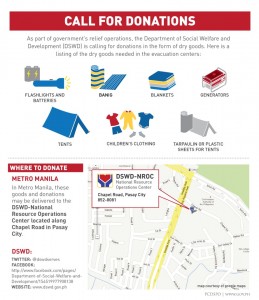 National Resource Operations Center
Department of Social Welfare and Development (DSWD)
Address: Chapel Road in Pasay City
Contact Number: (02) 8528081
The Philippines Red Cross
Send cash or check donations to the PRC National Headquarters in Manila. Checks should be made payable to The Philippine Red Cross. We can also arrange for donation pick-up. Or send cash donations for the Philippine Red Cross at any 7-11 store or Cebuana Lhuillier Pawnshop nationwide.
Donate Online Through Paypal, USend, Green Peso, Multiply and PayDollar
Philippine Red Cross Bank Deposit Accounts for Donations
Banco De Oro
Peso: 00-453-0018647
Dollar: 10-453-0039482
Metrobank
Peso: 151-3-041631228
Dollar: 151-2-15100218-2
Philippine National Bank
Peso: 3752 8350 0034
Dollar: 3752 8350 0042
Unionbank of the Philippines
Peso: 1015 4000 0201
Dollar: 1315 4000 0090
All Check/Cash for the account of Philippine Red Cross (Swift Codes)
Banco De Oro
BNORPHMM
Bank of the Philippine Islands
BOPIPHMM
Metrobank
MBTCPHMM
Philippine National Bank
-PNBMPHMM
Unionbank of the Philippines
-UBPHPHMM
For your donations to be properly acknowledged, please fax the bank transaction slip at nos. +63.2.527.0575 or +63.2.404.0979 with your name, address and contact number.
ABS CBN Foundation International (Typhoon Pablo)
For those in the US, you can donate online through ABS CBN Foundation at http://www.abscbnfoundation.org or via cheques to 150 Shoreline Drive, Redwood City, CA 94065.
Comments
comments