I always thought that all buses are the same.  So you simply ride the first one that arrives.  Well, not anymore.  Green Frog Hybrid Buses has a route that takes you to Taft, Buendia, Makati and The Fort.  And it boasts to the first hyrid, eco-friendly bus in the Philippines.
There are two Green Frog Hybrid Bus in operation.  I was told that six more are expected to arrive within the year.  The hybrid system is made in the United States, the brakes are German-made while the lithium ion batteries are from Japan.  The hybrid buses emit less pollutants compared to a diesel-run bus. They are air conditioned, has six closed-circuit television cameras and has a GPS device installed.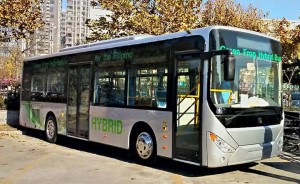 Green Frog Hybrid Bus
Green Frog Hybrid Bus Route
The Green Frog Bus Route is different from most buses.  Their M1 Route It goes from LRT/Taft to C5 while passing through Osmeña Highway, Roces Avenue, Ayala Avenue, Makati Avenue, Paseo de Roxas, EDSA and C5 Road.  The bus is popular among students and office works in Makati since it has less stop overs and gets you faster to your destination.
Check out the complete M1 Route for the Green Frog Hybrid Bus below.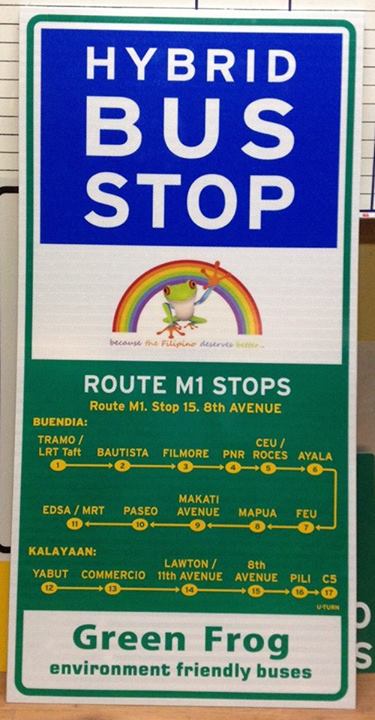 Green Frog Hybrid Bus Fare
The fare is a flat rate of P20 if you don't own a Green Bus Prepaid Tap Card.  It's more expensive that the minimum bus fare of 12 Php.  But this becomes 15 Php per trip if you own the card.  You pay once you enter the bus.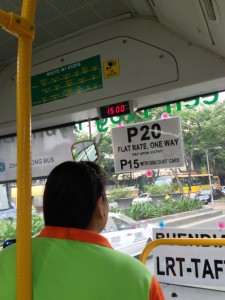 Green Frog has a flat rate of 20Php for non-cardholders
Commuters are encouraged to buy the Green Bus Prepaid Tap Card which is credits you to 10 rides.  The first time you buy the card, it's 200 pesos.  The next time you need to buy the card, you simply return the old card and pay 150 Php only.  If you no longer need the card, you can just return it and they will give a rebate of 50 Pesos.
The Green Bus Prepaid Tap Card can only be bought from the bus conductor.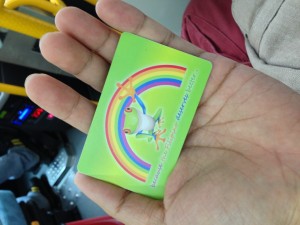 The Green Bus Prepaid Tap Card give you 10 rides for 150 Php only
My Green Frog Hybrid Bus Ride
I was able to ride on the Green Frog bus once. It was a short ride.  I can even just walk to where I was headed but I can't resist hopping on it when the bus stopped in front of me.
It has fewer seats so the bus doesn't look crowded.  The big windows allowed more natural light inside the bus.  The seats are clean and comfortable. It really sets itself apart from the usual buses in Manila.  The best part is the aircon which works so well even at noon.
The conductor was female.  She was very polite and helpful since I asked a lot of questions about their buses.  She doesn't shout loudly at bystanders asking them to ride the bus.  Maybe because they have their suki already.  At one point, students simply got inside with their Green Frog cards and greeted her "Hi ate".  Yeah, see was that close with her clients.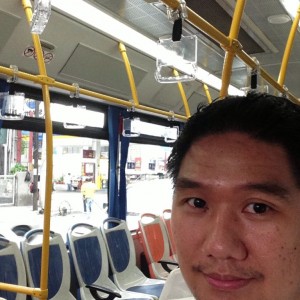 I hope there will be more of these Green Frog Hybrid Buses.  Our public transport here in Manila badly need a makeover and the Green Frog is setting the trend.
Some photos were taken from the Green Frog Facebook Page
Comments
comments